Mobile Application Development Noida
At Promitheia, we promise to develop the most trustworthy, appealing and innovative mobile applications. A renowned company in Noida, we hold adept expertise in the development of mobile apps that could work wonders for your business.

Our Strategy

With a perspicuous strategic insight, we decide the methodology that could match the development approach the best way. For this, we bring our management and the development team on a common platter along with the clients. After reaching consensus, we develop an effective strategy that could make the mobile application development roadmap easier for the developers.

Our experienced developers are well adept at leveraging the capabilities of upscale frontend and backend platforms to deliver exceptional iOS and Android apps. Throughout our development endeavor, we make sure to abide by the product development lifecycle. Further, owing to a completely agile working environment, we make our clients aware of the progress at every phase of the lifecycle, be it analysis, design, development, testing integration, security or quality assurance.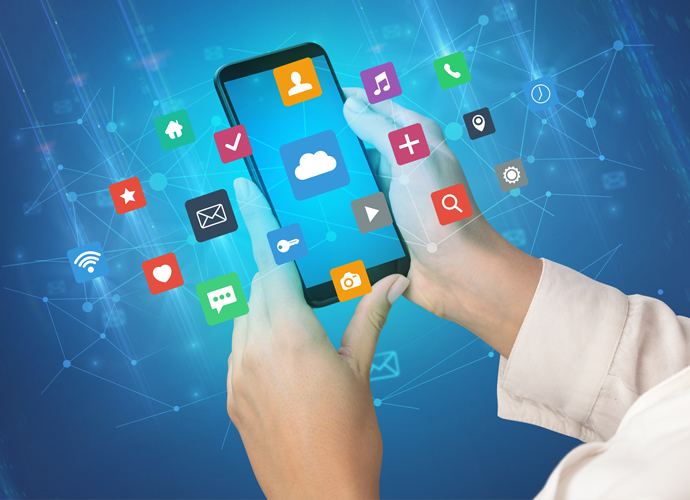 Our Services
To develop client-centric apps, our developers prefer working on the latest technologies for Android, iOS and Hybrid applications.We hold expertise in developing both the native and the hybrid apps.

1. Android Development

To develop Android apps, we prefer using the combination of Java and Kotlin. Some common tools includeAndroid Studio, Android IDE, Intellij IDEA. Besides mobile app development for Android, you can also approach us for varied other android development services, like:
• Android Tablet App Development for Tabs
• Android Wear App Development
• Android App Development for Smart TV

2. iOS Development

We can develop stable, scalable, fully functional and appealing iOS apps for iPhone, iPad and iPod Touch. For best results, we use the most prevalent and upscale technologies for backend and frontend including SwiftUI, Cocoapods Logo, CocoaPods, RxSwift Logo, CircleCI and more. Some of our prominent tools are XCode, AppCode and Atom.

3. Hybrid Apps Development

If you are a startup, opting for hybrid app development would be ideal as the resulting app ensures high speed and cost-effective development. These apps combine the features and functionality of web and native solutions. You can run them with the help of a native app and have embedded browsers. It involves embedding the code created via web languages like JavaScript, CSS and HTML into a native app with the help of Apache Cordova (Previously PhoneGap), Ionic Capacitor or some other plugin.

4. Cross Platform App Development

Just like hybrid apps, the cross platform app development also involves reusing the same code for varied platforms. The difference however between the two lies in code shareability. If you want to target potential customers on different platforms simultaneously and in a restricted budget, cross platform app development would be ideal. For this, we use tools like Xamarin, Flutter, React Native, and so on.

Fields of operation
We develop mobile apps for various business domains including retail, banking & finance, It, education, healthcare, automobile, fashion, lifestyle, travel & tourism, and so on. Hence whether you are looking to have an app for any of these fields or any other vertical, you can always trust us for the best and most feasible results.
Feel free to contact us for any of your mobile app development requirements in Noida. We would be happy to serve your cause and contribute toward your business growth.